Country singer Daryle Singletary died suddenly Monday morning.
Singletary died at his home in Nashville. The cause of death is not immediately known, but it was unexpected.
Daryle had 5 Top 40 hits, including "I Let Her Lie" and "Amen Kind of Love." He also scored a number 4 song with "Too Much Fun."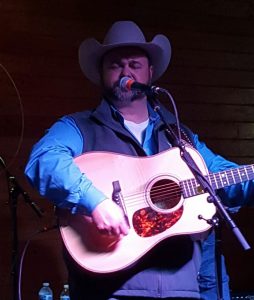 Daryle performed what was his last show this past Saturday night at Cowboys. There were no apparent health issues or signs of trouble Saturday night. He put on a great performance to an enthusiastic crowd that loved his traditional country selections. He was supported on what would become his final show by Richard LeBouef and newcomer Lane Touchet.
On a Personal Note: I was honored to bring Daryle Singletary up on stage Saturday Night at Cowboys. I was honored to sing along with him for most of the show Saturday night. My immediate thoughts are with his family and band, the "Range Hands" you could tell the tightness of the band and how they really enjoyed playing together.
"Mr Country Music Dayle Singletary"
Just got word that Daryle Singletary has passed away.
Rest in peace Buddy, you sang country like country should be sung.

— Charlie Daniels (@CharlieDaniels) February 12, 2018
My good friend and one of the best pure country singers if not the best, Daryle Singletary passed away this morning. God's choir just got a lead singer!!!

— Neal McCoy (@NealMcCoy) February 12, 2018
Rough morning for me. One of my favorite singers, Daryle Singletary, has passed away this morning unexpectedly. He's the one who convinced me to move to Nashville. Praying hard for his family✝️Love you Daryle

— Josh Turner (@joshturnermusic) February 12, 2018
Sorry to hear that a great country voice has passed away. God bless you Daryle Singletary. RIP

— SammyKershaw (@SammyKershaw) February 12, 2018
I'm shocked and saddened to hear that Daryle Singletary has passed away. He was a true country voice and his talent will be sorely missed. Praying for Daryle's friends and family. https://t.co/ETYofzufCC

— Travis Tritt (@Travistritt) February 12, 2018
Today we lost a good one. RIP to Daryle Singletary, sending all my thoughts and prayers to his wife Holly and their family. pic.twitter.com/XLUfZ47sWe

— Clay Walker (@ClayWalker) February 12, 2018
Daryle Singletary, was a man's man. He was in all respects, one of the greats. A Country Music Singer's Singer. We will miss our friend and hold close his loving family in prayer.
Until we meet on the shores of the everlasting Rest In Peace.

Truly saddened today for his family. pic.twitter.com/RavzhJjChu

— Shenandoah (@Shenandoahband) February 12, 2018
So sad that we have lost Daryl Singletary today … He was just 46… Rest Easy Brother #ABrandNewStar https://t.co/bcIBVw0zaQ

— The Oak Ridge Boys (@oakridgeboys) February 12, 2018
So saddened by the news of the passing of @Darylesing, he was a friend and top 5 country singers of all time!!! RIP my friend and sing one for my daddy, he loved your voice! #darylesingletary

— Trent Tomlinson (@trenttomlinson) February 12, 2018
Please say prayers for Daryle Singletary and his family. Such tragic news and I'm just devastated! @Darylesing

— Steve Wariner (@stevewariner) February 12, 2018
Very sad news this morning. We lost a true fan of real country music, @Darylesing. We just worked with him two months ago at NFR. He did so much to keep this music alive. Here's his last performance, just last night…https://t.co/2mEB3X5zMj

— David Ball (@davidballmusic) February 12, 2018
Reports coming in that Daryle Singletary has died from a blood clot at the age of 46.
Rest in Paradise, brother. Prays to Daryle's wife Holly.

— Doug Supernaw (@supernaw_doug) February 12, 2018
The last text he sent me last night was "We killed it last night in Louisiana. We left em wanting more". Man was he ever right… RIP @Darylesing and thank you for everything… and mostly for your friendship