***RESCHEDULED BANDS DUE TO WEATHER:
Geno Delafose & French Rockin' Boogie – October 30th

Warren Storm & Willie Tee – November 6th
The Mercredi is coming back September 11th to Carencro's Pelican Park.  The series kicks off with a Patriotic Celebration with River Road. Geno Delafose returns along with Joel Sonnier Celebrating 60 years in entertainment. Don Rich, Ryan Foret, Warren Storm, Willie Tee with the Cypress Band and Jamie Bergeron and his Kickin Cajuns will round out a fall lineup that is sure to set records.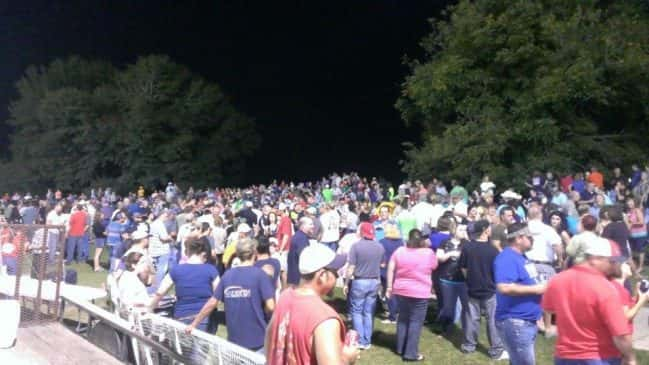 Carencro PARC announced the fall lineup of the Mercredi Show featuring Country, Swamp Pop, and Cajun Favorites. The Season kicks off September 11th with National Recording artist River Road performing with Kaleb Olivier to open. It is Patriot Day so that we will be remembering and honoring our first responders. The following week Geno Delafose and French Rockin' Boogie return to the Mercredi Show.
September 25th we will welcome The Don Rich Band. Grammy Award Winner and Louisiana Music Hall Of Famer Jo-el Sonnier will be appearing on stage October 2nd. Sonnier is beginning his 60th year in the entertainment business; it is also Jo-el's Birthday, so he is very excited to perform and entertain the audience.
October 9th it's going to be a party with Ryan Foret and The Foret Tradition. October 16th, carrying on an annual tradition it will be a performance by the Godfather of Swamp Pop Music Warren Storm and Willie Tee and The Cypress Band. Also, tradition Jamie Bergeron and his Kickin' Cajuns will wrap up the fall season of the Mercredi Show.
PARC Commission members are excited about the blockbuster lineup that is going to appear at the Mercredi Show. PARC Commission members are also enthusiastic about the overall excitement of the performers that have shown an interest in playing the Mercredi Show.
Chairman Tom Meyers said
"2018 was a rough fall hopefully mother nature will cooperate better this fall with us. I applaud the Commission Members in their diligence in listening to the community as to which bands to invite."
The Mercredi Show is a weekly performance held every fall and spring at Carencro's Pelican Park Concert Stage. The Community of Carencro and Acadiana is invited to come to listen or dance to great music.
MERCREDI SHOW
FALL 2019
 Patriots Day Celebration and Commemoration
September 11, 2019         RIVER ROAD with Special Guest Kaleb Olivier to Open
Returning to the Mercredi Show lineup
September 18, 2019         GENO DELAFOSE & FRENCH ROCKIN' BOOGIE
September 25, 2019         DON RICH & THE DON RICH BAND
Celebrating 60 years in entertainment and his birthday
October 2, 2019                 JO-EL SONNIER
October 9, 2019                 RYAN FORET & FORET TRADITION
OCTOBER 16, 2019            WARREN STORM, WILLIE TEE & THE CYPRESS BAND
OCTOBER 23, 2019            JAMIE BERGERON and THE KICKIN' CAJUNS
The Mercredi Show, a joint production of the City of Carencro and Carencro PARC. Presented by:
Fontenot Family Dentistry: Dental Care for the Entire Family! Hector Connolly Carencro, Carencrodentist.com, Fontenot Family Dentistry, providing comprehensive compassionate quality dental care in a friendly atmosphere.
Kathleen Theriot, Keller Williams Realtor, knowledgeable and professional real estate agent, Looking to sell, Looking to purchase, Making your Realty dreams a reality… Kathleen Theriot, Keller Williams Realtor.
Kishbaugh For Lafayette, take a stand and make things right
Ranch Outlet, your headquarters for western wear, apparel, gifts, cookware, lawn & garden, pet supplies, feed… and MORE!
And these local sponsors:

Advance 2000 Tax Service, Arsement Machine & Supply, Bryan Tabor for Parish Council, Carencro Catholic School, Creative T-Shirts, Elaine Richard, CPA, Home Bank, Jay Castille Construction Inc., Lee Verret State Farm Insurance, Melancon Funeral Home, Nolan's Lawnmower Sales & Service, Prejean Creative, Rayne State Bank, Schambo Manufacturing, Swanky's Downtown Carencro, Total Pump & Supply, Melancon I-49 Storage Center, Nolan's Lawnmower Sales & Service, and Pizzaville USA

Tags: