Play Pure Country Pick 'Em for your chance to win a Tailgate Pack from Don's Specialty Meats!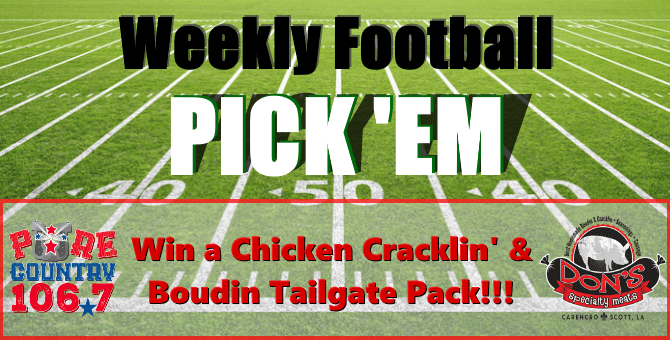 Simply pick the games and you'll be automatically entered in our weekly giveaway for a tailgate pack from Don's Specialty Meats, which includes Chicken Cracklins and Boudin!!!
***Some weeks, we'll also be giving away a 4-pack of tickets to a Ragin' Cajuns home game!***
One winner will be selected at random each week.  We'll keep track of your picks and display a leaderboard of those who get a perfect round of picks in a week, but you need not get a single pick correct to be entered into the drawing.
You Pick 'Em, You Win!!!
LEADERBOARD – (After 10 Weeks)

Double J – 2 Perfect Weeks

Eric White – 2 Perfect Weeks

Jacob Fontenot – 2 Perfect Weeks

Farrell Fontenot – 2 Perfect Weeks

Scotty Nero – 2 Perfect Weeks

Tim Landry – 1 Perfect Week

Amanda Duhon – 1 Perfect Week

Chris Reese – 1 Perfect Week

John Bertrand – 1 Perfect Week

Rhonda Weber – 1 Perfect Week

Tim Bourque – 1 Perfect Week

Wilda Fontenot – 1 Perfect Week