With the exit of Garth Brooks from the field, the nominees for the CMA Entertainer of the Year represent very versatile styles of music.
Eric Church who in July had his own Jack Daniel's Special Edition released. Like most country stars, he spent the year coupled up in quarantine. Church also released "Stick That in Your Country Song" in June.
As the new year began Miranda Lambert was ready to celebrate first responders with her Wildcard tour then the breaks were hit with COVID-19. She celebrated the release of her nominated song of the year "Bluebird." Sadly as the summer turned to fall Miranda mourned the loss of her rescue dog, Waylon.
Carrie Underwood who is nominated this year, but for the first time in many years will not be hosting the CMA awards show. Underwood is the most awarded artist in CMA history.
One local country Music fan is not happy that she will not be performing on the show this year. Even with Even News made his unhappiness apparent this past week with a post. So I guess we know who he is pulling for in the Entertainer of the Year category.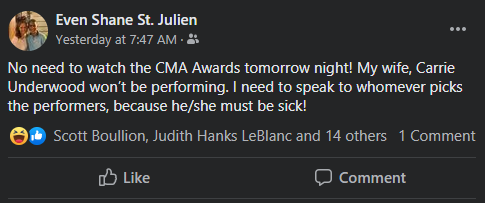 Keith Urban who has won the award in the past really struggled with quarantine he stated early on that he was not a fan of performing for a camera in his living room. He and his wife Nicole Kidman are used to traveling with their family for work, but everything came to a standstill when the coronavirus pandemic shook the world at the beginning of the year. He poured a lot of his emotions into his new single "Out of The Cage"
Last but certainly not least in the list of nominees is Luke Combs. Combs got a nod from the CMA last year as Male Vocalist and an endorsement from none other than Garth Brooks, the 2019 entertainer of the year.
Garth during the voting process asked for voters to remove him from consideration. He called out Luke in his acceptance last year saying "this trophy has your name on it in the future." Conventional wisdom says that it could go to one of the female artists nominated. Luke Combs is still considered somewhat of a Nashville outsider and promoting himself on the grassroots level.
ABC will have the broadcast starting at seven. Reba McEntire returns as host with Darrius Rucker. One of the highlights of the show will be a presentation of the Willie Nelson Lifetime Achievement Award to Charley Pride.
So to answer the original question, Who do you think will win the Entertainer of The Year? We agree! Eric White will have a complete rundown of the winners and sound clips tomorrow morning on the Boot Scootin' Morning Show.



Tags: