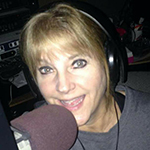 Sunday, Saturday -- 12:00 PM - 06:00 PM
Shelley G keeps you company Saturday and Sunday afternoons with the Superstars of Country. Shelley is an Acadiana radio veteran. Hailing from New Iberia, Shelley played fast-pitch softball and college basketball, taught school for many years and loves to sing.
Always a Ragin Cajun… She dreams of being Saintsation when she grows up… (Yall, just let her dream, please).